The City of Carencro is undertaking a massive water infrastructure revitalization program to lead to a permanent fix to the cities historic brown water issues. During this process citizens may experience more brown water as the old cast iron pipes are being changed and fitted with new PVC pipes.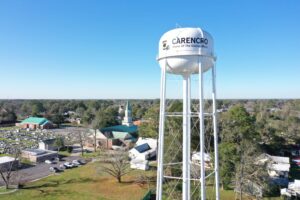 For more information on where they are starting their work and what phase of the project they are on please review this map. To see Mayor Charlotte Stemmans Clavier's informational video about the project click here.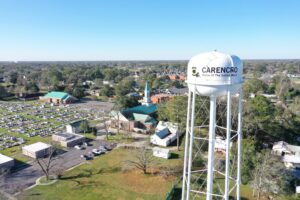 Please feel free to call Carencro City Hall with any questions that might arise during this project at 337-896-8481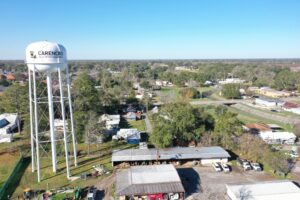 August 17, 2023 Update
Press Conference Statement: Carencro Mayor Charlotte Stemmans Clavier Addresses Water Tower Closure and Water Conservation
Ladies and gentlemen, members of the press, and fellow residents of Carencro,
Thank you for joining me today as we discuss a significant step forward in our ongoing efforts to enhance the quality of life for our beloved community. I stand before you to address an important development in our water revitalization project, specifically regarding the draining of the Andre Street water tower, which is scheduled to take place on Sunday night.
Water Revitalization Project
Our commitment to providing clean and reliable water to the residents of Carencro has led us to embark on a transformative water revitalization project. This endeavor aims to address the long-standing issue of discolored water that has affected our community for far too long.
Andre Street Water Tower Closure and Conservation Efforts
As part of this endeavor, we will be shutting off  the Andre Street water tower on Sunday night. This step is essential to ensure the successful implementation of our water revitalization efforts. During this process, it is imperative that we all work together to conserve water until further instructions are provided. I understand that this may require adjustments, and I want to personally thank you for your cooperation and understanding during this period.
Temporary Impact on Water Quality
It is important to note that while the water lines are being flushed and we go to one water tower, some settlement may be stirred up within the system. This may lead to a temporary discoloration of the water supply, commonly referred to as brown water. Please be assured that this is a natural consequence of the process and a temporary occurrence.
Assistance for Residents
In order to minimize any inconveniences caused by the temporary discoloration, we have made available chemicals at City Hall that can effectively remove settlement from clothes. These chemicals are offered free of charge to our valued citizens, and I encourage you to take advantage of this assistance.
Communication and Updates
We understand the importance of keeping you well-informed throughout this process. Rest assured, we will continue to provide updates and information via our official city website and our various social media channels. It is our commitment to ensure that you have the information you need to navigate through this phase smoothly.
Gratitude and Patience
Before I conclude, I want to express my heartfelt gratitude for your patience and support as we work diligently to rid our city of the longstanding issue of brown water. This water revitalization project is a testament to our unwavering dedication to creating a water system that Carencro can be truly proud of.
Conclusion
In conclusion, the closure of the Andre Street water tower is a crucial step in our journey toward a cleaner and more reliable water supply. Your continued cooperation and understanding are vital as we undertake this process. Together, we will overcome the temporary challenges and emerge stronger, with a water system that reflects the resilience and unity of the Carencro community.
Thank you
8/17/2023
Beginning this Sunday night, we will be down to one water tower as we continue to work on the new water infrastructure. Therefore we are asking all residents to conserve water and hold off on any lawn watering for the next few weeks. While working on the pipes, settlement will also be stirred up, and brown water will emerge. Please continue to monitor the water coloration before doing laundry, and if you need chemicals to clean up the brown residue, please come to Carencro City Hall to pick some up during working hours free of charge.