Carencro Veterans Memorial

Purchase an Engraved Brick
You can honor a special veteran in your life by purchasing an engraved brick to be installed in our memorial plaza. Bricks are $100 each and you can download the order form here or call City Hall at 337.896.8481. This makes a beautiful gift, and we have a certificate that you can download and present to the recipient.
History
On November 11, 2014, our city dedicated the Carencro Veterans Memorial to the servicemen and women of our community. It was designed by Lynn Guidry Architect and won a Community Achievement Award from the Louisiana Municipal Association. The project took first place in the Community Development Category for cities with a population from 3,001–10,000. It also earned a Silver Award in Architecture in the INDesign Awards.The memorial includes a plaza of brick pavers engraved with the names of past and present veterans, 16 granite "soldiers," or small pillars, engraved with the names of veterans killed or missing in action, and marble benches.
To see photos of the memorial, please visit our photo gallery.
Seeking KIA/MIA Information
Are you related to any of the KIA/MIA soldiers honored in our memorial? We have a history on some of these men, but don't know much about most of them. We'd like to compile their stories so visitors to the memorial can learn about these local heroes. If you knew or were related to any of these soldiers, please contact us at 337-886-7003 or email us.
Honored Veterans:
Percy Allemand (Korea)
Curley Babineaux (WWII)
Andrew Benoit (Korea)
A.B. John Breaux (WWII)
Rene Breaux (WWII)
Edgar J. Guilbeau (WWII)
Fr. J. Verbis LaFleur (WWII)
Cyril J.B. Landry (WWII)
Numa E. Martin (WWII)
Nelson John Menard (Korea)
Antoine J. Miller (WWII)
Nicholas Olivier (Iraq)
Charles R. Parkerson (Korea)
L.J. Toussaint Richard (WWII)
Weston Roger (WWII)
Ewell J. Sonnier (WWII)
Euclide J. Savoy Jr. (Korea)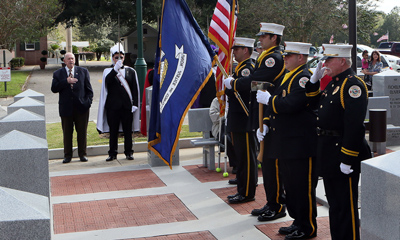 Thank You to Our Sponsors
We're very grateful to our sponsors for their contributions to our memorial and support of our local war heroes:
Soldier Sponsors (KIA/MIA granite pylons)
C.H. Fenstermaker & Associates
Molded Rubber Specialties
Nina Claire Breaux & Allen Ray Bourgeois
Prejean's Restaurant
The Frank X. & Jennifer Melancon Connolly Family
The Ray Joseph & Marie Nina Mouton Melancon Family
The Michael Ray & Peggy Shorts Melancon Family
The Kevin B. & Patricia Melancon Fontenot Family
The Dr. William & Evelyn Melancon Family
The Gerald Wayne & Sandra Geisendorff Melancon Family
Evangeline Memorial Gardens
Melancon Funeral Home
Melancon Life Insurance Co.
Melancon Pharmacy
Carencro Mardi Gras Association
Bobby & Dené Badon & Family; Bryan W. Badon, Brock & Brittney; Shellie L. Badon, Landon Bernard
Badon Enterprises
Mayor Tommy, Sr. & Dorothy Stutes Angelle and children Michelle, Tommy, Jr., and Annemarie
John S., Sr. & Rowena L. Bellot Stutes & Family
James C. "Dick" & Jeanette Champagne Angelle & Family; James Bruno & Denise Speyrer, Angelle & Renee
Burton J. "Burt" & Connie Nepveaux Arceneaux & Family, Burton & Idelle Dugas Andrus, Marie Arceneaux, Dr. Kenneth A. Arceneaux, Sosthene "SOS" and Geraldyne Andrus "Jerry" Arceneaux
Lester "L.J." & Annette Lightfoot Melancon
Marcus J. & Kelly Castille Melancon
Fire Chief Carroll E. & Elsie Chiasson Guillbeau Family
Mayor Glenn L. & Nannette Guilbeau Brasseaux Family; Jimmie & Catherine Arceneaux Brasseaux Family, and Louis J. "Bill" & Hazel Guilbeaux Brasseaux
Cecile Remont and Councilmember LJ Boudreaux Family
AT&T Louisiana
Bench Sponsors
Melancon Marble & Granite Works
Keith Arsement
Jay Castille
Lee & Therese Verret State Farm Insurance
Carencro Catholic School
Corporate Sponsors
Gulf Coast Bank
Coastal Pipe of LA
Southern Lifestyle Development
Rayne State Bank
Opelousas General Health System
Acadian Ambulance Service
Meritus Credit Union
In-Kind Sponsors
Lynn Guidry Architect
C.H. Fenstermaker & Associates
Associated Design Group
Tony Meche Masonry
Prejean Creative Advertising & Design
Landscaping
Lynn & Gayle Guidry
Refurbishment of the Carencro War Veterans Bronze Plaque
Gerald & Sandra Melancon
Stay Connected
Stay updated with the latest news regarding the Carencro Veterans Memorial and the City of Carencro.
Follow us on Facebook
Join the City of Carencro's Email List